Public Liability & Professional Indemnity Insurance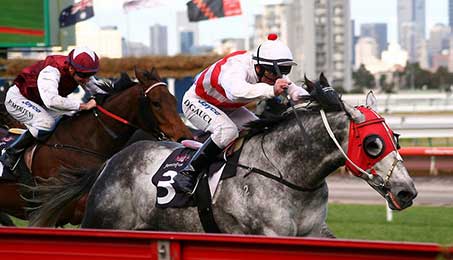 Public Liability
Public Liability insurance covers you for amounts you become legally liable to pay to third parties – persons who are not family members or employees entitled to Workcover benefits – as compensation for personal injury or damage to property, and legal and other costs associated with your legal defence.
Because of the nature of the industry, often third parties are other trainers or their employees, jockeys, trackwork riders, or owners and sometimes even officials.
To avoid possible conflict with others, and breaching your policy conditions, any response to third parties should be limited to asking them to put their demand and reasons for it in writing at which point you will refer the matter to your insurer. DO NOT make any admissions of responsibility.
Cover is limited to occurrences happening during the policy period and arising from the business of licensed thoroughbred racehorse training as described in the policy and within the defined geographical limits.
Most importantly, the policy cover applies to the trainer and any company he owns or controls for the purpose of training. If the trainer is employed by, or contracts to, a company or other entity, or individual, then that entity needs to have their own cover.
Some trainers have other activities on their property that do not fit within the policy business description of licensed thoroughbred racehorse training. These other activities such as cropping or grazing, need to be insured. If these activities are incidental (i.e. the main business is training), it is possible to have these included so that only one policy is required.
Trainers sometimes place racehorses with unlicensed persons for various therapeutic or specialized purposes, and agistment. If this occurs, trainers should ensure the unlicensed person has adequate insurance to protect the trainer if injury or damage happens due to the negligence of the unlicensed person.
If any of these circumstances applies to you, you should contact Marsh or the ATA for clarification, advice and help.
Professional Indemnity
Professional Indemnity covers you for financial loss you become legally liable to pay as a result of civil liability in respect of the conduct of your business. The Professional Indemnity Policy is provided on a Claims Made basis which means that any claim or circumstances likely to give rise to a claim must be reported during the policy year in which it occurs.
Accidents – Any injury to persons, damage to property, or writ, summons, letter of demand, or verbal demand for financial compensation is likely to be the subject of a claim under one of these two policies. A report should be submitted immediately through the ATA. This will not affect you in any way, and places the facts on record whilst they are fresh in everyone's minds. Often claims are made many years after the event that causes them – anywhere between three and six years is common.
If you are sued for breaching your duty of care (negligence) you can lodge a claim through the ATA or Marsh.
For further details about Public Liability and Professional Indemnity insurance, please read your policy wordings below or contact us.